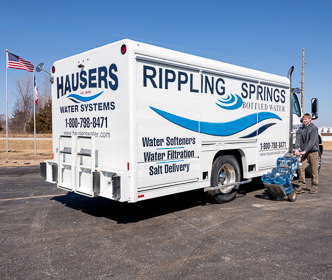 Bottled Water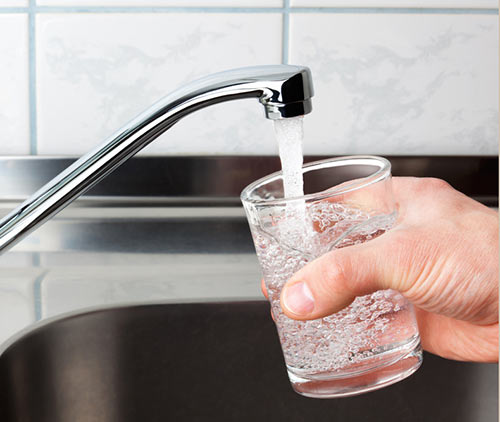 Drinking Water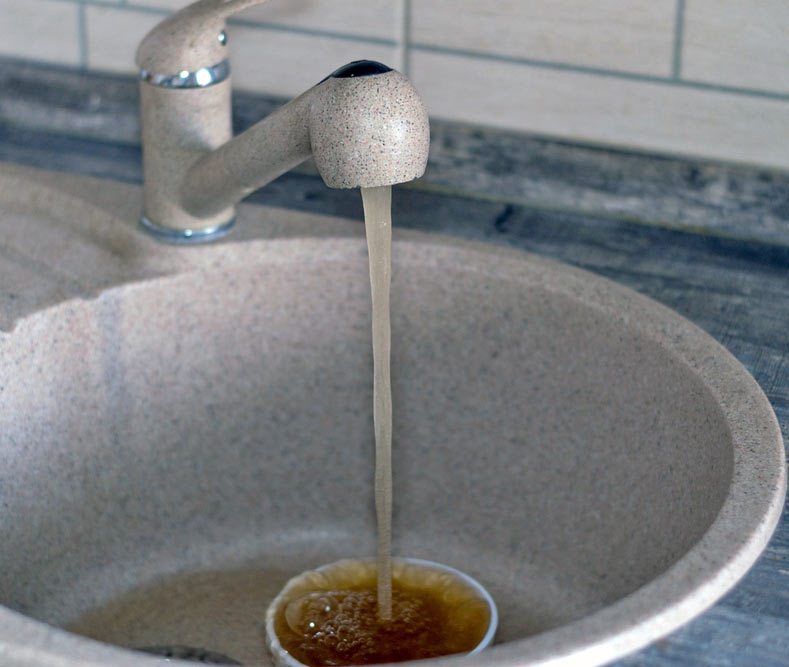 Problem Water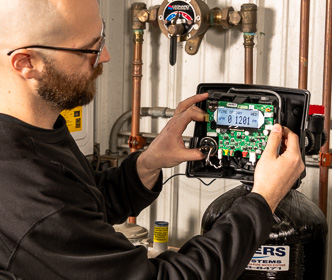 Service + Repair
Frequently Asked Questions
Water helps nearly every part of the human body function efficiently. Considering that our bodies are almost two-thirds water, it is important to understand water's role in healthy lifestyles. The following are just some of the things water does in the body:

Brain is 75% water / Moderate dehydration can cause headaches and dizziness
Water is required for breathing
Regulates body temperature
Carries nutrients and oxygen to all cells in the body
Blood is 92% water
Moistens oxygen for breathing
Protects and cushions vital organs
Helps to convert food into energy
Helps body absorb nutrients
Removes waste
Bones are 22% water
Muscles are 75% water
Cushions joints

Our "Rippling Springs" Bottled Water can do all of this!

The U.S. Food and Drug Administration (FDA), which regulates bottled water as a packaged food product, has determined that there is no limit to the shelf life of bottled water. Thus, FDA does not require an expiration date for bottled water products.

Because it is packaged under sanitary, good manufacturing practices; is in a sanitary sealed container; and does not contain substances (such as sugars and proteins) typically associated with food spoilage, bottled water can be stored for extended periods of time without concerns.

WaterCare®'s line of filters has a variety of solutions to match your exact water issues. Common water issues like foul smells, discolored particles, or low pH are no match for our line of proven water filters. Reduce impurities in your water, and keep your well, plumbing system, and fixtures looking and operating as they should. Here at Hausers Water Systems our company will test your homes water and provide system to meet your family's needs.

Ice that comes out of a kitchen ice machine or ice cube tray is usually white or cloudy in the middle. The reason this happens is because when water is put into a tray and left to freeze, it freezes from the outside in. The first thing to freeze is the cleanest, purest water—which means air bubbles, minerals and impurities get pushed towards the middle of the cube. That's what causes the cloudiness. Pure water makes ice taste better. Therefore, whatever you put it in tastes better!

It's a phenomenon commonly referred to as "hard water". Basically, the water in your area has higher levels of minerals in it, such as calcium, that ends up leaving a white residue after all the water it was dissolved in has evaporated. You'll notice hard water stains on glasses and stuff if left to dry, especially with drops of water on it, but even otherwise in streaks if wiped off. Hausers Water Systems Full line of Water Systems can treat this problem in many ways.

Some contaminants are more common than others and pose a more present threat to infant health. When you're testing your water with a new baby in the house, you should take a screening approach to scan for a variety of contaminants. However, there are a few common contaminants of particular concern: coliform bacteria, nitrates, and lead. All of these have different adverse health impacts and require different treatment. Bacteria can cause flu-like symptoms and may indicate the presence of other viruses or parasites. Nitrates are of particular concern for pregnant women and babies, as they can cause methemoglobinemia, also known as blue-baby syndrome. Methemoglobinemia causes severe oxygen deficiency, which can lead to cyanosis (skin discoloration) and, in extreme cases, suffocation. Lead is toxic to children — it gets stored in bones and slowly releases over time. Its toxic effects can harm many different systems in the body. Hausers Water Systems has solutions for all of these problems in your water.

Hausers Water Systems has serviced all brands of water treatment equipment for over 73 years. Our highly trained technicians can trouble shoot most brands.

Municipal water systems use chlorine for killing off bacteria, chlorine makes our water safer to drink. Unfortunately, the chlorine remains in our drinking and shower water. When we come into contact with chlorine, it can act as an irritant, damaging our skin cells and beneficial bacteria cells. This can cause your skin to dry out.

Since hard water contains minerals, it can leave a build-up of soap residue. This in turn clogs pores, through which the body releases its natural oils. Clogged pores can lead to acne or even eczema. Hard water can also leave your skin feeling dry, as it strips away the natural moisture from the skin.

These simple precautions will help keep your water treatment system looking like new, and help ensure that you experience trouble free service for many years.

Use only mild soap and warm water when cleaning the exterior of the system. Never use abrasive, harsh cleaning compounds or any containing acid (such as vinegar) or an oxidizer (such as bleach) or similar products.
Do not stack heavy objects on top of the system's control valve (timer case) or brine tank.
If the system is installed outside or in a pump house, dirt and debris such as cobwebs, insects, etc., may create mechanical issues. Occasionally remove the control valve cover and brush lightly with a very soft, dry brush.
Should you need troubleshooting or adjustment information not included in this Use and Care guide, please refer to the proper "Installation and Owner's Manual" for your model. If you do not have this manual, it may be obtained from your local WaterCare dealer or from our product manual library.

All WaterCare softeners, conditioners and some filters are designed to use salt to regenerate the system. For proper operation of a water softener or conditioner, the brine tank should be at least 1/3 full of salt at all times.

A periodic clean out of the brine tank is recommended to keep your system operating at peak efficiency. The following is a step-by-step procedure to properly clean out the brine tank. To reduce cleaning time, it is suggested that you perform this clean out when the salt supply is low.

Following is a list of suggested tools to use:

Garden hose
Scoop
Bucket-size container
Household scrub brush
Phillips-head screwdriver
Soft rag

Cleaning the brine tank.

Remove the brine tank lid and the plastic cap from the well.
Remove the brine well mechanism and carefully set it aside in an upright position. To do this, disconnect the brine overflow tube and brine line from the safety float mechanism. While holding the nut on the inside of the brine well, unscrew the elbow. Be careful not to lose the nut.
Should you desire to save any clean, dry salt remaining in the brine tank, remove it and place it in a clean container.
Use a scoop to dig out and discard as much remaining salt, water and insoluble matter as possible.
Carefully lay the brine tank on its side, and using the garden hose wash the inside of the tank to rinse out all residue and salt cake affixed to the inside of the tank.
If a salt grid was installed, remove and clean it using a household scrub brush and mild soapy solution.
Stand the brine tank upright. Place the brine well in position and reaffix it to the tank with the elbow and nut. Connect the brine line back to the safety float mechanism.
Reinstall the salt grid and replace the brine well cap.
Fill the brine tank with 2 to 3 inches of water.
Fill the tank 2/3 full of salt.
Replace the brine tank cover.

PLEASE NOTE: Allow about 2 to 3 hours for brine solution to be made before the system regenerates.

If a power loss occurs for less than 24 hours and the time of day flashes, this indicates the battery is depleted. The time of day should be reset and the non-rechargeable battery should be replaced.

The battery is a 3 Volt Lithium Coin Cell type 2032 and is readily available at most stores. To access the battery, remove front cover and extract from its cradle. Slide in the replacement battery and replace front cover.

Your unit is equipped with a battery backup system. In the event of a power outage for less than 24 hours, the control valve will remember all settings and time of day. For an outage over 24 hours, the only item that needs to be reset is the time of day, which will flash when a reset is required. All other settings are permanently stored in the nonvolatile memory.

FOR TOTALCARE SERIES CONDITIONERS:
Time of day will not need to be reset. The system will recognize resumption of power and will switch back.

All salt, regardless of its source, may contain insoluble matter, which accumulates at the bottom of the brine tank and requires periodic cleaning. If pellet or rock salt is used, you should clean out your brine tank at least once a year. If solar salt is used, the brine tank will require less frequent cleaning. However, you should periodically check for salt bridging*.

We recommend the use of solar salt for best results. Water softeners and conditioners manufactured by WaterCare can support the use of potassium chloride (KCI) as a regenerant in lieu of sodium chloride.

WARNING: Do not use salt containing mineral bed cleaners. Salts that claim any iron cleaners, rust savers, or additional cleaning agents should not be used as they can harm the Crystal-Right media. Only "plain" solar salt, rock salt or block salts should be used. Contact your dealer for more information.

At no time do we recommend the use of resin or media cleaners in the brine tank without first contacting your authorized WaterCare dealer. Some cleaners require not only proper handling but can be detrimental to the tank's media bed.

*Salt bridging occurs when a gap is formed between the salt and the water preventing the salt from dissolving in the water and making brine. The effects of high humidity as well as the use of some brands of purified salt products may cause bridging.

A quick way to check and eliminate this problem is to press your knee against the side of the brine tank and listen for the salt to readjust inside the tank. You can also take a broom handle and make a mark about 30 inches from the end and carefully begin to probe down through the salt with the handle. If an obstruction is found before the mark on the broom handle reaches the rim of the brine tank, a bridge has probably developed. Continue probing to break up the bridge.